Carsten read my hot sauce entry and decided to help: he went to the next supermarket and bought a popular hot sauce. Popular in Colombia, I should add. 😉
Here you see the 'Salsa de Ají Piquetasco' in company with its somewhat more vicious friends.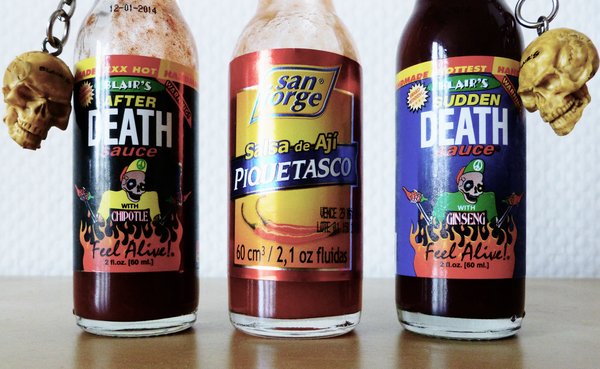 The sauce is not very hot (I'd guess about 5000 scoville¹), which makes it ideal for pizza. I had one yesterday night and used half of the bottle. Absolutely delicious! I never had a sauce which such a full and fruity taste. So I got curious and started to search.
Ají, I learned, is the caribbean word for chili in general, but likely refers here to a specific family of chilis, the capsicum baccatum, whose most popular species is the ají amarillo. In Europe, this family of chilis is much less known than anuum (which includes bell pepper, peperoncini, jalapeño, cayenne), chinense (bird's eye, habanero, bhut jolokia, ...), or frutescens (tabasco).
One finds a lot of praise of the ají amarillo in the web, but the article on Serious Eats describes this chili most vividly:
"Besides its phylogeny, ají amarillo is worth seeking out for its unique flavor, which offers a lot of fruitiness for its heat. It's a different kind of fruitiness from other chiles like poblanos: less sharp and harsh, more full-bodied, and a lot more subtle. If there were a chile to taste like sunshine, this would be it. It may sound odd to use the word "comforting" to describe a hot chile, but for ají amarillo, it seems fitting."
Exactly my impression.
Thanks so much for the great sauce and for widening my culinary horizon, Carsten. But...couldn't you've stayed in Bogotá a little longer?
¹ For comparison, the 'After Death' and 'Sudden death' sauces are rated at 50000 and 100000 scoville, respectively. Particularly the latter one is too hot to be sprinkled generously across a pizza.